Pay it forward(2000)
release dates:
USA 20 October 2000
Netherlands 14 December 2000
Germany 28 December 2000
UK 12 January 2001
Denmark 19 January 2001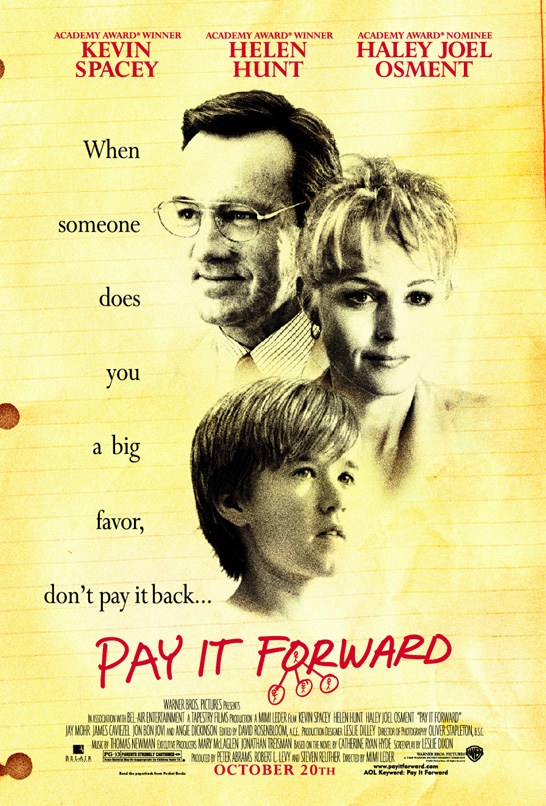 The Story is based upon:
The novel by Catherine Ryan Hyde.
Premise: A young boy (Osment) is challenged by his teacher (Spacey) to do make the world a better place. The boy comes up with the "pay it forward" concept (which is basically Karma), in which you do a good deed for someone, who then does a good deed for three other people. Rather than a "payback", these things "pay it forward". Wouldn't you eventually reach the entire world? The boy starts by taking in a homeless junkie (Caviezel), much to the surprise of his Mom (Hunt)... The film asks the question: can good deeds save the world? (Schreiber plays the reporter who breaks the story on the boy.) Filming: Production on this movie started on February 14th, 2000, with filming being done in Los Angeles and Las Vegas.
Directed By:
Mimi Leder
Produced By:
Peter Abrams,
Paddy Carson (associate),
Robert L. Levy,
Mary McLaglen (executive),
Steven Reuther,
Jonathan Treisman (executive)
Writing credits
Leslie Dixon,
Catherine Ryan Hyde (novel)
Cinematography By:
Oliver Stapleton
Distributed By:
Warner Brothers
Rating:
'PG-13' for mature thematic elements including substance abuse/recovery, some sexual situations, language and brief violence
Genre:
Drama / Comedy
F
ilm editing by:
David Rosenbloom
Casting
Geraldine Leder
Production Design
byLeslie Dilley
Art Direction
Lawrence A. Hubbs
Set Decoration
Peg Cummings
Costume Design by
Renee Ehrlich Kalfus
Production Management
Mary McLaglen .... unit production manager
Second Unit Director or Assistant Director
Steve Danton .... first assistant director
Sound Department
Mark Hopkins McNabb .... production sound mixer
Special Effects
Burt Dalton .... special effects coordinator
Other crew
Denise Heinrich .... production co-ordinator
Jeanmarie Murphy-Burke .... unit publicist
Angie Popko .... production assistant
Steven J. Winslow .... assistant camera
camera technician: Wescam camera
Production Companies
Bel Air Entertainment
Warner Bros. [us]
Tapestry Films
Distributors
Warner Bros. [us]
Country:
USA
Language:
English
Cast (in alphabetical order)
Jon Bon Jovi
James Caviezel
Angie Dickinson
Marc Donato
Helen Hunt
Rusty Meyers .... News Stand Guy
Jay Mohr
Haley Joel Osment
David Ramsey
Kevin Spacey