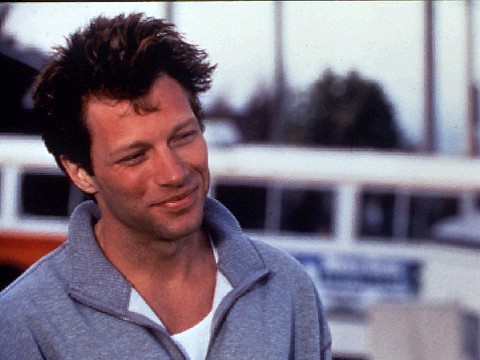 Little City" is the name of a restaurant in writer/director Roberto Benabib's Little City. It's also another way of saying it's a small world. And it certainly is. Especially in movie-land.
This is the story of six people in San Francisco whose lives intermingle. Bartender Kevin (Jon Bon Jovi) tells the new girl on the block, Rebecca (Penelope Ann Miller), that San Francisco is a great city if you don't mind running into the same six people over and over again. And darned if that doesn't happen.
We meet Adam (Josh Charles), a cabbie/artist whose girlfriend Nina (Annabella Sciorra) is having an affair with his best friend, Kevin, the lecherous bartender. This is fine with Adam because he still has a thing for his ex-girlfriend, Kate (Joanna Going), who left him for another woman, the lecherous lesbian/art teacher Anne (Jo Beth Williams). Rebecca, who's extremely uncomfortable with her body, gives lesbianism the old college try, but to no avail. But it does some damage to various characters in our little sextet.
Will Adam get back with Kate? Will Kevin quit his womanising ways and find true love? Will Rebecca learn to relax and enjoy it?
There are some fine performances in this little human 'dram-edy'. Charles is particularly good, playing the lost-soul Adam with just the right amount of humour, anger and confusion. There's good chemistry between him and Miller. What doesn't work is the device used to get us into the characters' heads: Kevin tells all in a group therapy setting; Adam spills his guts into his cab's car radio; Nina regularly confesses to her priest; and Kate visits a shrink. The story would work better without these clunky monologues.
The actors are the real bright spot in Little City. No Oscar-worthy performances by a long shot, but it's at least enough to keep you watching.




From the January 15, 1999 edition of Entertainment Weekly:

Little City Review
LITTLE CITY Jon Bon Jovi, Penelope Ann Miller, Annabella Sciorra (1998,
Miramax, R, $103.99) Bon Jovi must be trying to challenge Eric Stoltz as the
hardest-working actor in independent film. In this by-the-numbers relationship
comedy, he's one of five characters seeking romance in San Francisco--breaking
up, getting back together, breaking up again--as often happens in films like this.
Lacking originality and energy, City wastes a promising ensemble, although Miller
enlivens the proceedings somewhat as the sexually inhibited new girl in town.
Writer-director Roberto Benabib delivers some occasionally insightful dialogue, but
he seems unable to stage a scene without it feeling like a high school play.
Back to Little City
All movies